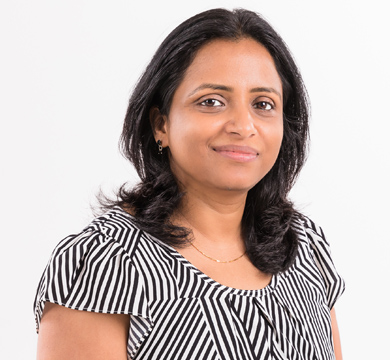 DHIVYA KARTHIKEYAN
PSYCHOLOGIST
Dhivya Karthikeyan is a Registered Psychologist and a member of the Australian Psychological Society. She has more than 10 years experience working as a Psychologist in Sydney.
Dhivya is a professional, non-judgmental and compassionate psychologist who is committed to helping and supporting clients overcome their challenges, develop healthy sense of self and build a meaningful life. She has extensive experience working with adults presenting with anxiety disorder, depression, stress, chronic pain, parenting issues, work stress, life transition and adjustment issues.
Dhivya has a special interest in helping people who are committed and invested in their personal growth. She is passionate about helping clients achieve their goal and build a positive and fulfilling life. She uses various therapeutic approaches such as Cognitive Behavioual Therapy(CBT), Acceptance and Commitment Therapy, Mindfulness, Positive Psychology , Solution Focused and Brief Therapy.
She has a special interest and experience working with migrant families facing challenges in settling in a new country and identity issues. She helps them in improving the quality of life and overall wellbeing in the new country. She provides therapy for clients from culturally and linguistically diverse background. She speaks English, Tamil and Telugu.