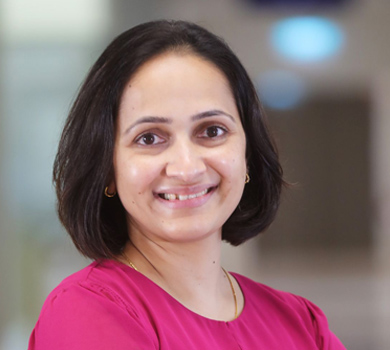 DR DIVYA NAMBOODIRI
MBBS, FRACP
ENDOCRINOLOGIST
Dr Divya Namboodiri is a Consultant Endocrinologist dedicated to providing comprehensive and personalised, evidence-based care to her patients.
After obtaining her Undergraduate Medical Degree from India, she underwent Basic Physician Training at Nepean Public Hospital and subsequently undertook Advanced Training in Endocrinology at Macquarie University, Blacktown, and Liverpool hospitals. She obtained Fellowship with the Royal Australian College of Physicians (FRACP) in 2022. She has publications in peer reviewed journals in the areas of Pituitary and Thyroid disorders. She has been actively involved in medical student teaching with the Macquarie University MD program and is also involved in clinical trials and research projects at Macquarie University Hospital.
Dr Namboodiri enjoys managing all aspects of Endocrinology including Type 1 and Type 2 Diabetes, metabolic health and weight management, thyroid disease, osteoporosis, pituitary disorders and endocrine disorders during pregnancy. She has a special interest in management of Type 1 Diabetes and Thyroid disorders.
She is multilingual (English, Hindi and Malayalam).
Associations:
Hornsby Hospital (Visiting Medical Officer)
Macquarie University Hospital (Visiting Medical Officer)